On the Interview day – Top Tips
We understand that it can be stressful on the interview day. We're here to help keep you calm and make sure you're ready for the day ahead, know what to expect and impress your future employer. See our top tips below.
Before you leave the house
Dress smart (clean your shoes)
Clean, neat and tidy hair
Remove excess jewellery
Aim to arrive approx 15 mins early
Take a Copy of Your CV
Make sure you know who you are seeing and their position
Make sure you have directions/know where you are going
Take a contact number so you can call if you are delayed
 When you get there
Body language is important
A firm handshake  (2 shakes)
Maintain eye contact
Sit upright but not too wooden
Don't fidget – it shows nerves
Don't fold your arms
Be attentive
Smile and relax
Take notes
 Turn off's
Untidy appearance (Clothes, hair etc)
Excessive jewellery
Too much perfume/aftershave
Informal/inappropriate attitude
Giggles
Disinterest
Lack of preparation
Candidates not having any questions
Uncomfortable body language
 Your Aim is
Find out more about the company
Sell yourself

Relate your knowledge/skills to job requirements
Show you are keen
Ask if the employer has any reservations about you
Ask what the recruitment process is – what is the next stage?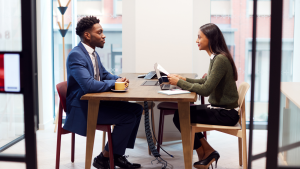 ---